PURE DEAD SEA MUD MASK
You can't just hop on a plane to the Mediterranean every time your skin is crying out for a Dead Sea mud mask. So we bring the mud to you!

A favorite at Spas around the world, this authentic Dead Sea Mud Mask is abundantly rich in vitamins, minerals and trace elements that are oh-so-good for your dry, irritated skin. 
This unique body mud helps is ideal for facials, it revitalize, purify and cleanse your skin leaving it looking more toned, radiant and refreshed.  It can even be used to help reduce water retention and appearance of cellulite.
Shop Now!
About Us!
Believable Beauty LLC is more than a skincare brand - it is a loving dedication to every woman's beauty.
Our brand proudly carries the message that beauty is individualized and, therefore, not determined by one opinion. Our founder, Versala Anderson, finds inspiration in her hometown of Detroit and the way that its citizens can always see the best in their neighborhoods, no matter what situation they might be in. This endearing sense of optimism combined with Versala's love for her hometown and its beautifully vibrant people manifested itself in Believable Beauty, a business on a mission to inspire women of all ages, races and backgrounds to recognize and celebrate the inherent beauty they were born with.
Believable Beauty products are conceptualized to address real needs brought forward by real women, just like you. We strive to give you everything you need to feel great about your skin, which is why our formulas are rich in vitamins and minerals and refined to provide spa-quality luxury and results you can rely on.
Read More!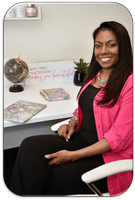 Testimonials
I received my kit and it's so cute.  The instructions are so clear and easy to follow, I am looking forward to diving in

"Sikur"
Cellulite Kit - I lost inches and my skin is so soft, I love it

Jae
The Dead Sea Mud Mask is amazing

Carol